BELAIR Components

Data acquisition
The BelAir data comprises in-situ, airborne and satellite data.
The in-situ data are collected by the ground teams, formed by each consortium.
Airborne data is acquired using both manned and unmanned platforms.
Hyperspectral data can be delivered at a spatial resolutions ranging typically from 1.5 m to 3 m for the APEX sensor covering a wide area, operated onboard a manned aircraft.
Multi-spectral and RGB data is being delivered at high spatial resolution (< 10 cm) and acquired using multi-rotor and fixed-wing drones.
Satellite data is supported for the following platforms: LandSat, Pléiades, ASTER, DMC.
Sites
The BELAIR site comprises from the start three sites covering a wide range of thematic areas selected at the BELAIR user consultation meeting (May 7th 2013, Brussels):
BELAIR LITORA site: coastal and biodiversity (Ijzermonding, Laege Moere and 'tZwin)
BELAIR SONIA site: urban and forestry (Brussels Capital Region)
BELAIR HESBANIA site: agriculture and horticulture (lime belt between Sint-Truiden and Gembloux)
BELAIR SILVA site: forestry and grasslands (since BELAIR campaign 2017, areas are close to Liège, Vielsalm and Eupen)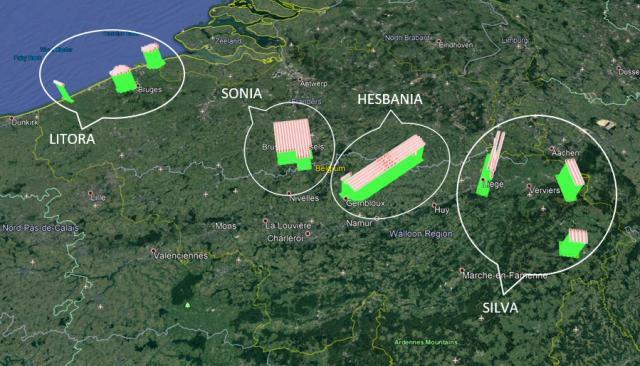 Data processing
In-situ data processing is performed by the ground teams.
The airborne data are being processed at VITO.
The RGB and multi-spectral datasets are processed using COTS photogrammetry software, up to orthomosaics and digital elevation models.
The hyperspectral datasets are being processed up to target reflectance products, using dedicated software for the radiometric and spectral calibration, geometric and atmospheric correction and smoothing of the data.
Data archiving
The acquired image data, corresponding metadata and ground measurements data are archived at the Centrum voor Beeldverwerking (CVB) hosted by VITO.
Data distribution
Authorized users can access the acquired data through different channels:
the airborne data processed by VITO are delivered through the BELAIR FTP server shortly after the acquisitions to the team members;
all in situ data are made available through the BELAIR Geoportal according to distribution rules;
the airborne data processed by VITO are made available through the Product Distribution Portal at VITO according to the distribution policy
 
Outreach
BELAIR supports the setup of Belgian BELAIR network research and education activities e.g. for MSc and PhD students at the involved universities & research institutes. The BELAIR2013 data sets should stimulate the BELAIR users to submit HORIZON2020, ESA and BELSPO proposals to further investigate relevant research topics, crystalized on the basis of BELAIR preliminary findings. BELAIR strengthens the interaction within the Belgian Remote Sensing community and catalyzes the sharing of data and laboratory equipment.